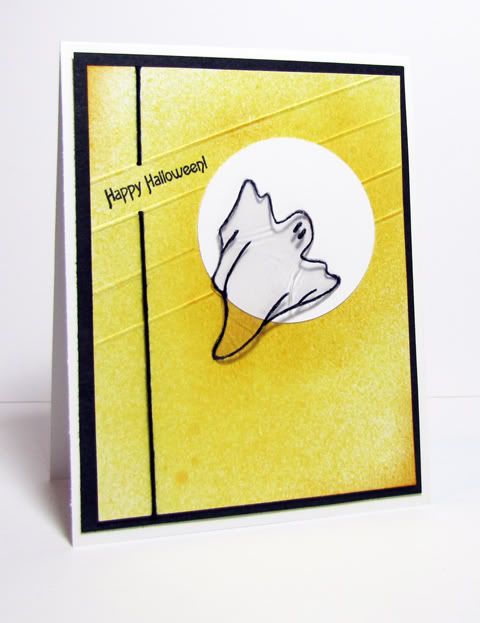 Someone who thinks you are very dear,
has "BOO"ed you with Halloween cheer.
Now take this note & make a copy or two,
add fun & treats, and goodies will do.
Leave it on their stoop & make it quick,
keep your "Boo"ing a secret, that's the trick.
Such a cute little saying... My boys will get a kick out of it this year. I totally simplified the
Skipping Stones Design Sketch
and it is flipped 180 degrees. I took a cue from one of the Guest Designers this month, the ever so talented and always inspiring
Cristina
, and replaced scored lines for some of the panels from the sketch. The ghost was made using the same tips and tricks from
this post
.
Please check out the other gals' blogs over at
Skipping Stones Design
. I happen to know for a fact that they are all fun and perfect for Halloween!
Happy Halloweenie
just so happens to be the set of the month-in time for you to pick it up and create some "Boo"ed projects too! {The poem at the beginning of this post is a stamp from the set!}
Supplies:
Cardstock: (White) Office Max
Stamps: (Happy Halloweenie) Skipping Stones Design
Ink: (Black) Stazon
Fiber: (Embroidery Floss) DMC
Other: (Lemondade Mr. Huey Mist) Studio Calico, (Marker) Sharpie, (Acetate/Transparency)
Tools: (Circle Cutting System) Creative Memories